Tarale
Catgirl
C:\ DOS
C:\ DOS RUN
RUN DOS RUN
Level: 82


Posts: 1725/1867
EXP: 5171375
For next: 37852

Since: 07-23-07

Pronouns: she/her

Since last post: 17 hours
Last activity: 17 hours


I already posted some of these elsewhere but I sometimes make a gif or two.

Quality and maturity varies GREATLY.




basscomm
Random nobody
Level: 5



Posts: 9/9
EXP: 338
For next: 191

Since: 05-18-18

From: Earth

Since last post: 3 days
Last activity: 2 days


I made this one a long time ago to demonstrate a bug in Super Mario Bros.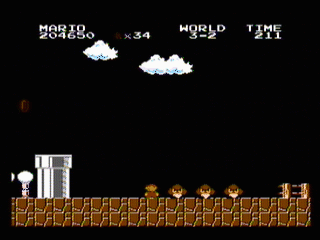 I actually got it to work on the first try, which is a minor miracle in itself since the timing is kind of hard to pull off.
Rusted Logic