RanAS
Member
Level: 31


Posts: 286/290
EXP: 168124
For next: 17239

Since: 10-10-14
From: Brazil

Since last post: 10 days
Last activity: 2 days


A Nintendo GameCube controller for R$50 ($15.50), which might sound normal until you consider that it usually sells for R$120 ($40+) over here.
Tarale
Catgirl
Butts
Level: 65


Posts: 1120/1127
EXP: 2330861
For next: 4767

Since: 07-23-07


Since last post: 4 days
Last activity: 2 days


Posted on 11-24-17 05:30:16 PM (last edited by Tarale at 11-25-17 05:40:49 AM)
Link | Quote
Oh my god I got so many things:



Inflatable cushion for high chair


SKUBB boxes, so many SKUBB boxes


A mandoline slicer


A silicone thingy to make popcorn in the microwave


A sippy cup for a baby


Soft spoons for a baby


Things to freeze purées in


A rubber duckie



EDIT: And then we went out today and we bought EVEN MORE THINGS, with some gift cards. We spent one whole entire $100 card on toys.



An activity center where you push the buttons or switches or things and stuff pops up


Stackable ring thingy that wobbles


Water toy where you pour the water in the top and all the spinny things happen


Stackable boat bath toys


Cup/sieve bath toys shaped like sea creatures


A truck thingy where you bop it on the top and the wheels go


Blocks


A thing you stick on the high chair that wobbles and has balls in it that spin and stuff


Another water sippy cup thing because more is good right?


A steamer for vegetables


A set of measuring spoons and cups



He's finally getting to an age where he's interested in toys and I was starting to feel like we didn't have much stuff for him and so this is so exciting!
Xkeeper
I got a new laptop.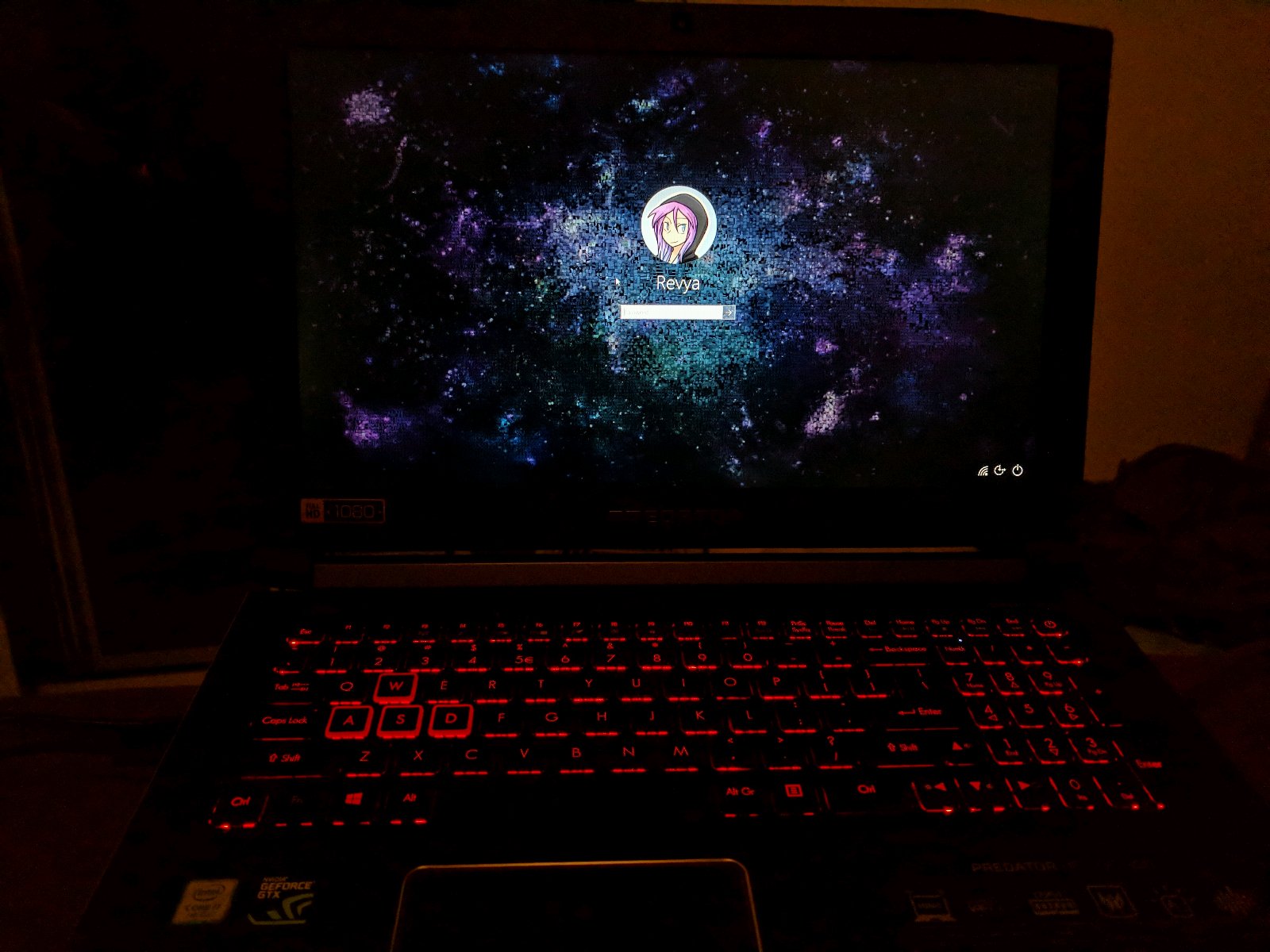 It's neat.
Lunaria


Moon Bunny! :3
Level: 128


Posts: 5342/5342
EXP: 24036663
For next: 345037

Since: 07-28-07
From: the everfree forest

Since last post: 13 days
Last activity: 2 hours



I ordered bun on BF. :v


Alsoooo, that vaporeon makes me so jelly! I want more large plushies!
Xkeeper
Posted on 11-29-17 03:01:00 PM (last edited by Xkeeper at 11-29-17 03:01:14 PM)
Link | Quote
Originally posted by 2Tie

---


got a vaporeon plushie

---

That's a good plushie. I'm waiting on a plushie to arrive, myself
(not this one though)
RanAS
Member
Level: 31


Posts: 290/290
EXP: 168124
For next: 17239

Since: 10-10-14
From: Brazil

Since last post: 10 days
Last activity: 2 days


- A Steam card for buying more Steam games once the Winter sale starts (I know I just missed Black Friday, didn't have the opportunity to buy the card before them unfortunately)
- A new mouse because the old mouse had a broken wheel and double-clicked randomly
- New headphones, which would've been great except for the fact that their audio is mono, which means now I have to go back there and return it and buy another one

man, I do not have good luck with headphones
xdaniel
670

Level: 51


Posts: 672/673
EXP: 1002196
For next: 11742

Since: 12-04-08
From: Germany

Since last post: 7 days
Last activity: 3 hours


Got an early Christmas present, so to speak, from my mom, a warm winter jacket since I needed a new one anyway; timing couldn't have been better either, this morning's brought the first snow here this winter. Also bought some shoes for myself, nothing special and they were on sale.

Game-wise, I got Mystical Ninja Starring Goemon for N64, loose PAL cart (already have the Japanese version complete in box) and Fish Dude for Game Boy, also loose, from what's basically my childhood's game store. Granted, it's small and cramped, thus not very well organized, and maybe a bit overpriced for more popular titles - on the other hand, the owner's a great guy who does remember his customers and ex. isn't against giving a discount, you can try things in the store before you buy, and you'll sometimes find "oddities" for cheap - the aforementioned Japanese copy of Goemon, a boxed Tristar 64 adapter, loose Japanese discs of Castlevania SotN and Klonoa for PSX, things like that.

BatElite
Member
Level: 8


Posts: 24/25
EXP: 1904
For next: 283

Since: 04-24-17


Since last post: 8 days
Last activity: 1 day


Yesterday I bought Innerspeaker and Lonerism, both albums by Tame Impala. I'm liking Innerspeaker and haven't yet given the other good attention so far.
Reverend Crush
Member
Level: 9


Posts: 31/31
EXP: 2188
For next: 974

Since: 07-04-17
From: ATL

Since last post: 7 days
Last activity: 7 days


I never thought I'd ever say this in my lifetime, but my wife and I got a brand new car. Don't have pics of it, but it's a 2017 Chevy Cruz. My employer had this insane offer with a local dealership where they'd put $5000 towards the purchase on top of a discount, and we've been looking for something more reliable for my wife to drive (she had been driving a 2004 VW Beetle, but there's something wrong with it like every other week it seems.)

I'm so used to cars made before and just after the turn of the century, driving this thing is a whole new world to me.
Xkeeper
That sure is a thing.



I bought a FDS disk, a potential prototype of Air Fortress. Hopefully we get it soon.
2Tie

Rumours of my death have been greatly exaggerated.
Level: 58


Posts: 931/931
EXP: 1516406
For next: 61140

Since: 02-22-10
From: The Codrex, Karda Nui

Since last post: 4 days
Last activity: 6 hours




sixty dollars at the electronics recycling store
(and the keychains came in the mail today as well)

clicky for bigger
Rusted Logic