usr_share
70

Level: 19


Posts: 21/79
EXP: 34673
For next: 1104

Since: 03-12-12


Since last post: 3.0 years
Last activity: 1.0 years


As well as baobab and K4DirStat, that do the same thing (represent used disk space graphically) in Linux.

A console utility named du also does a similar thing, except it writes out everything in text.
Kak
heh
Level: 73


Posts: 240/1815
EXP: 3369232
For next: 116636

Since: 09-03-13

From: ???

Since last post: 8 days
Last activity: 3 hours


Now that I think about it, there's a nice multi-purpose program "Free Download Manager".

It can alongside downloading torrent files, a somewhat working WEB Spider, a flash video downloader, and many other things.

I generally find it better than uTorrent.
SM3
Newcomer
Level: 6



Posts: 5/5
EXP: 543
For next: 364

Since: 05-27-12


Since last post: 4.0 years
Last activity: 3.0 years


A few that haven't been mentioned yet. I use Windows a lot for my main desktop because of gaming, so a lot of these have to do with sort of putting in a lot of features that are usually associated with *nix into Windows. All of these except for Splashtop are free and open source software.

Not exactly useful for productivity per se, especially since it's meant for gaming, but I like to use it in conjunction with VirtuaWin so that I can quickly change the desktop from my gaming desktop to my programming desktop with a simple key combination. Programming in between turns for Civ games for the win!
An environment that provides POSIX API for porting/running programs designed for Linux in Windows, such as Emacs, my favorite Windows version of Apache (although according to this, it may not be as secure as Windows Apache?), SSH for both client and server and git. Just note that you need to use the mingw-gcc package to compile programs that don't require Cygwin. (Or just use MinGW or VisualC++ for compiling)
A great (official?) Git client for Windows. Nuff said.
A Telnet/SSH client for Windows with an xterm emulator. It also has an xterm emulator, and has some strengths over Cygwin. I recommend both.
A desktop streaming client that's free for personal use. Way better performance than VNC because of how it's designed. It's not my favorite because you need to login with an internet connection to verify your profile, even with free use. It's good for gaming though, (unlike Teamviewr) and nothing like it exists AFAIK besides Steam Streaming..
An incredibly light torrent client that I 100% recommend over uTorrent because of its tiny, non-intrusive UI (no ads) and how much less RAM it takes than uTorrent.
I rarely use VNC since it's so slow, (<1 fps when over internet) but sometimes there is no other choice. I honestly couldn't tell you which is better, but I have both installed, and I usually have TightVNC running instead of UltraVNC.
A multiple desktop utility, such as Windows. I love this tool so much, and it's one of my favorite for multi-tasking.

Also note that there are some very decent SSH, Telnet and VNC clients for Android/iOS useful for on-the-go.
shagia
110

Level: 21


Posts: 14/116
EXP: 46059
For next: 3884

Since: 02-24-15

From: oakland, ca

Since last post: 1.0 years
Last activity: 78 days


Very surprised no one has mentioned Clover for Windows, but I guess because it's not all that popular.

Clover is a Windows Explorer modification that adds Google Chrome-like tabs to it within the same window, and also carries a bookmark bar. It works very well judging from the long time I've been using it myself, it really helps manage a clean work-space without having a bunch of Explorer windows open when it comes to messing around with files, here's a screenie.


Peardian

Magikoopa

16/3/1: KvSG #479 is up!

Level: 149


Posts: 7123/7432
EXP: 41136980
For next: 198159

Since: 08-02-07

From: Isle Delfino

Since last post: 5 days
Last activity: 1 day


These are two tools I use nowadays, and they are very very helpful. Unfortunately, both of them are only for Windows.

Everything Search Engine by voidtools - Allows you to search for files on your computer instantaneously. And I really do mean instantaneously. It only searches file names, though.

XnConvert and XnShell by XnSoft - Both of these tools allow you to batch-convert files into other formats, and it supports a lot of formats, including DDS and TGA. I personally recommend XnShell, which lets you integrate image converting commands into your right click menu, but XnConvert is a standalone tool version of the same commands for those of you who don't want it in your context menus. They also have other similar tools on their website.
shagia
110

Level: 21


Posts: 75/116
EXP: 46059
For next: 3884

Since: 02-24-15

From: oakland, ca

Since last post: 1.0 years
Last activity: 78 days


Posted on 07-01-15 01:38:16 PM (last edited by shagia at 07-01-15 01:44:18 PM)
Link | Quote
One tool that I've had a lot of feelings for is Splice.

Splice is a 'cloud' music production service that acts as a bridge between your DAW (digital audio workstation) and storage to actively update all of your projects by saving not only the project file which carries all of the instrument, composition, and mix data, but also all samples / audio files. You can also view your project's guts through the DNA player.

Not only this, but it also acts as a social network dedicated to collaboration. Although I haven't tried the collaboration side, it sounds like collaborating between two different DAWs is capable through 'frozen' audio files which are easily organized by version control, description, name, and more. Same goes for solo projects.

They've also recently added two new features, one where you can buy and manage / backup plugins through Splice and one where you can have a pick of 100 samples from a list of samples, allowing you many specific search functions for $7.99/m.

If you use normally use FL Studio, Ableton, Garageband, or Logic Pro X try out Splice! That's my referral link because I like free things.
RanAS
Member
Level: 40


Posts: 98/497
EXP: 428605
For next: 12704

Since: 10-10-14

From: Brazil

Since last post: 5 hours
Last activity: 1 hour


Posted on 08-30-15 09:06:09 AM (last edited by RanAS at 08-31-15 05:40:00 AM)
Link | Quote
I feel like adding a few more I use.

Open Broadcaster Software - Should be obvious, really. It can stream and record videos to YouTube, Twitch, Hitbox and more. It's free and easy to use, and even easy on the computer. Available for Windows, with a different version for other systems.

CDBurnerXP - Already mentioned. It's a good and easy to use CD/DVD/BD burning tool. It has a bunch of features Nero has too. Windows only. Although people also recommend ImgBurn, I think that it would only be useful for people who want a ton of options on CD burning. I don't like ImgBurn for some reason, I think it has a very weird design.

MagicDisc - Talking about tools with weird UIs, here's MagicISO! It works very well for a simple program. Never had any issues with it so far (I had a ton of issues with Nero before, where XP would simply stop working because of the thing) and the simple, taskbar-only interface makes it kind of neat too. Windows only. EDIT: I forgot to talk about what it does. Go me!
Basically, it can mount ISO files in virtual CD/DVD drives.

Midori Web Browser - If you ever need a lightweight browser for any reason, this is the one. It has a occasional glitch here or there, but it's extremely easy on the CPU (besides, it's still in beta much like OBS). It can support a great amount of HTML5 and CSS3, can support Flash and has a bunch of features popular browsers have. It's available for Windows and Linux.

Tagaini Jisho - A good tool for learning Japanese, although I only use it for basic "translations", a friend who is learning Japanese told me that it helps him a lot. Thanks to this software I was able to play Densha de GO!, so I think it works very well. Available for Windows, OS X and Linux.
nym
Member
Level: 16



Posts: 33/49
EXP: 17042
For next: 3214

Since: 02-11-12

From: Cartoon Hell

Since last post: 1.0 years
Last activity: 1.0 years


Originally posted by usr_share

---


A console utility named du also does a similar thing, except it writes out everything in text.

---


I know this is an extremely old post, but the info is still relevant; df is a much better tool that du. I'm not sure that du ever gives useful output (Maybe it does, I've never even read the man page) but df gives good info without any special flags.
shagia
110

Level: 21


Posts: 103/116
EXP: 46059
For next: 3884

Since: 02-24-15

From: oakland, ca

Since last post: 1.0 years
Last activity: 78 days


ShareX is a real awesome and very customizable screenshot application with plenty of tools and other uploading options. I've managed to strongly prefer it over other applications like puush, greenshot, and gyazo because of it's massive selection in tasks to perform after screenshooting / uploading something or uploading text, audio, or etc to a service, even going as far as making your own self-defined actions.

It's understandable to keep with something more straightforward though, I don't know anyone who really needs an IRC client in their screenshooting application.


StapleButter
Member
Level: 42


Posts: 181/505
EXP: 518711
For next: 2651

Since: 02-24-13

From: your dreams

Since last post: 9 days
Last activity: 1 day


Youtube Downloader HD -- useful for downloading Youtube videos, works really well for most of them

(I would list Proxifier which, combined with the above, can help you retrieve youtube videos that are subject to a regional block, but Proxifier isn't freeware)
RanAS
Member
Level: 40


Posts: 143/497
EXP: 428605
For next: 12704

Since: 10-10-14

From: Brazil

Since last post: 5 hours
Last activity: 1 hour


I used to have a web browser extension for downloading some YouTube videos, but it got broken after a while. (like many extensions do)

And since we're on the topic of downloaders, Twitch VoD Downloader is a good one for downloading Twitch videos. I tested it and so far it worked well, but the audio track had a slight delay which I had to fix using Avidemux (probably the only time I'll need to use it for anything). It might bother you with something about "authenticating your Twitch account", but it's not necessary. Just put a Twitch video link in it and download it. Simple as that. It even seems to have options to download a specific part of a stream but I haven't tested that yet.

Another thing is that, as of late I've been using Floe IRC instead of HexChat. It works quite well and has a nice interface that most other IRC clients don't have. Unfortunately it seems like it's a dead project (no updates since 2012).
Nin★Collin

Red Paratroopa
Level: 24


Posts: 86/178
EXP: 76625
For next: 1500

Since: 01-08-16

Pronouns: she/her
From: Dimension X Pipe

Since last post: 2 days
Last activity: 1 min.


When I'm cleaning out clutter and other junk I usually use WinDirStat.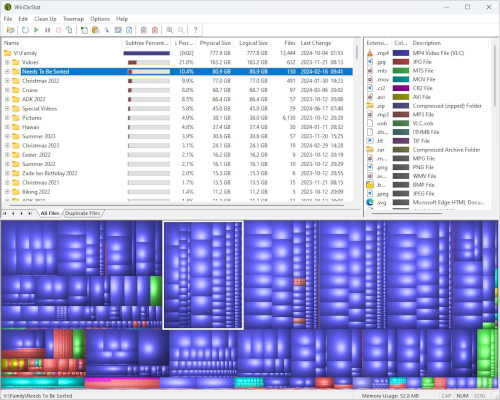 a tiny fairy

Level: 14


Posts: 18/80
EXP: 12438
For next: 633

Since: 01-16-18

Pronouns: —

Since last post: 225 days
Last activity: 65 days


The equivalent of that program in OSX is called Grand Perspective!


rakiru
Member
Level: 9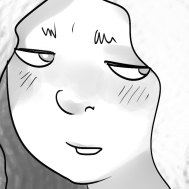 Posts: 5/31
EXP: 3036
For next: 126

Since: 01-09-18


Since last post: 261 days
Last activity: 229 days


Posted on 01-21-18 12:05:18 AM (last edited by rakiru at 01-21-18 12:07:28 AM)
Link | Quote
After using WinDirStat for years, I recently came across a recommendation for WizTree and can't recommend it enough. It's the same basic thing, but sooo much faster. It reads the file table off the drive directly, so it can do everything in-process instead of calling the (relatively) slow filesystem APIs a ridiculous number of times. Seriously, if you've ever waited 15+ minutes for WinDirStat to run, try WizTree - it'll probably take 15 seconds.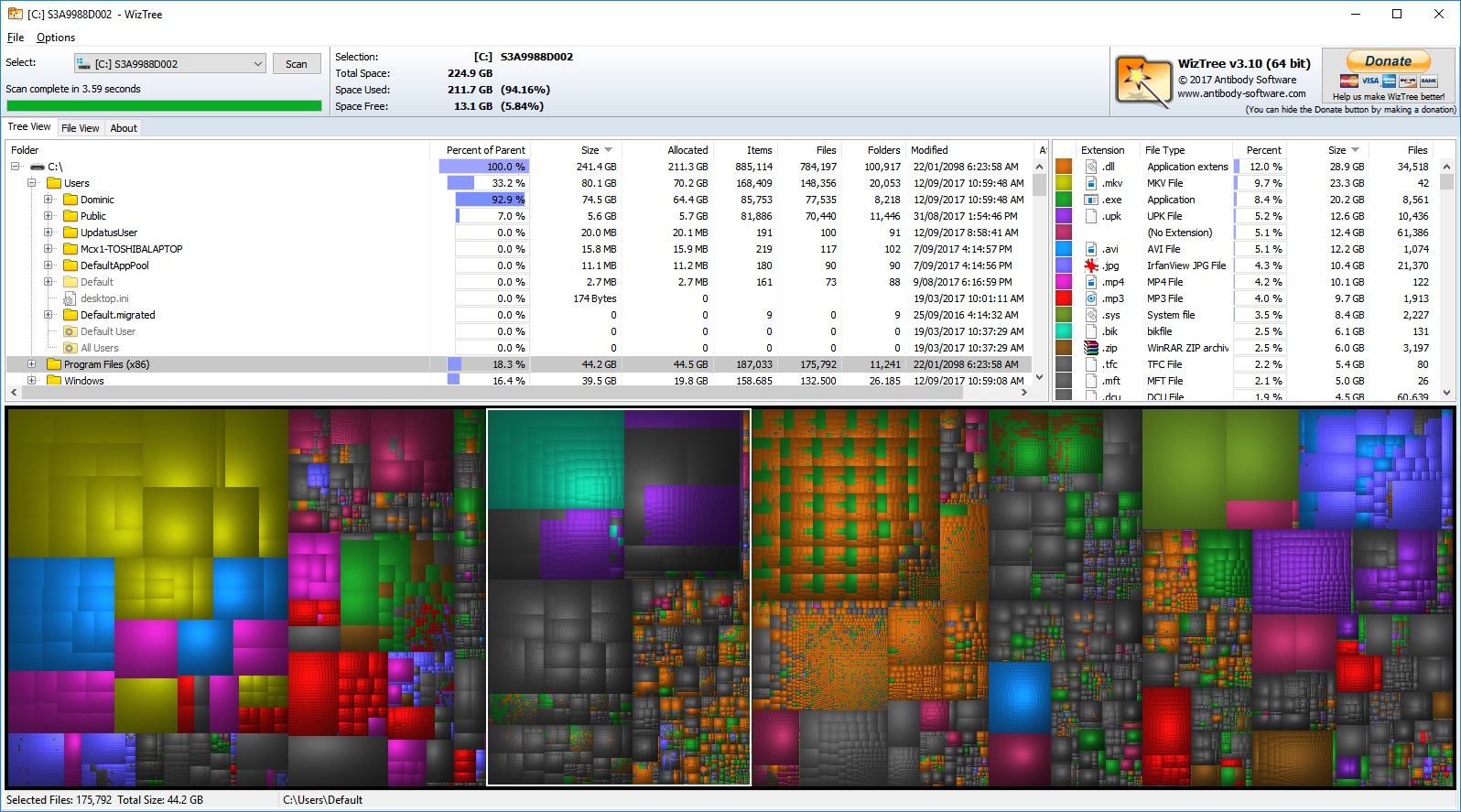 maple
Member
Level: 19


Posts: 23/153
EXP: 32741
For next: 3036

Since: 01-19-18

From: a linode vps

Since last post: 271 days
Last activity: 129 days


Posted on 01-21-18 01:14:05 AM (last edited by maple at 01-21-18 08:12:46 PM)
Link | Quote
Originally posted by rakiru

---

Seriously, if you've ever waited 15+ minutes for WinDirStat to run, try WizTree - it'll probably take 15 seconds.

---

oh heck that sounds awesome, i need to try it

i've been using two great free pieces of software to produce my weekly show for a while now:
- OBS i believe needs no introduction here, you probably already know it as a free alternative to xsplit for live video streaming
- kdenlive is an awesome open source video editor, it used to be linux only but recently they've been coming out with beta windows builds that have been working great for me
Halian

six legged drgn whomst build worlds
Level: 44


Posts: 271/472
EXP: 568116
For next: 43169

Since: 06-20-10

Pronouns: he/him
From: Central Florida

Since last post: 8 days
Last activity: 8 days


How has WinCompose not been mentioned yet

It basically gives Windows users Linux' Compose key
SC
Member
Level: 13


Posts: 26/71
EXP: 10260
For next: 7

Since: 01-24-18

Pronouns: he/they
From: Puke City

Since last post: 9 days
Last activity: 1 hour


Posted on 02-02-18 03:37:17 PM (last edited by SC at 02-02-18 03:37:28 PM)
Link | Quote
Surprised Youtube-DL or its GUI equivalent haven't been mentioned yet. They are the BEST and most versatile YT downloaders I've ever used, hands-down. I can download videos, their descriptions, AND their thumbnails (and tack on a custom file naming pattern) with just one command.

Also, KeePass is a pretty dang good local password manager (cause if you think I'm trusting the CLOUD with my passwords you've got another thing coming) and I like to use MusicBee as my local media player. Also ShareX is pretty good too (even though it's been talked about before).
ひりゅう
Member
Level: 8


Posts: 12/48
EXP: 1729
For next: 458

Since: 10-18-18


Since last post: 1 day
Last activity: 19 hours


Lazesoft Recovery Suite is probably worth a look for Windows-based environments. Especially if paired with boot disk that already include the software such as Gandalf's W10 or W7 PEs. Or modified copies of Hiren's since that development went south around 15.2. Runs fine inside of Windows if you have an environment that isn't crippled by a bad drive or other problem as well. Also has its own boot environment you can create if you so choose on a flash drive.

Software in question is a for-free data recovery and clone utility. Works very well with HDD --> SSD transfers, which is the primary reason I'll use it day-to-day but also does well for other types of transfers and recoveries. Downside is you can't -exactly- modify how big each partition to be transferred will be but it will do an average instead for resizing between different sized disks. You might see recovery partitions for HP and the like getting flagged about being full after a transfer, for instance (which you can just use a MOUNTVOL command to fix).
Jamie

Level: 21



Posts: 67/115
EXP: 49717
For next: 226

Since: 06-03-14

Pronouns: he/him
From: England

Since last post: 13 hours
Last activity: 5 hours


Has the free version of BitDefender been mentioned at all? I've heard it's pretty decent for an AV, compared to the likes of Avast.
Rusted Logic