Jul - NO! GO TO STAR! - mml2m64: an experimental .mml (Music Macro Language) importer for Mario 64 / Zelda 64
-
-
messiaen
Catgirl
Level: 65



Posts: 450/1085
EXP: 2249535
For next: 86093

Since: 11-20-07


Since last post: 4.0 years
Last activity: 3.0 years


Posted on 12-29-08 05:06:21 PM
Link
This tool converts .mml files to the sequence format used in Mario 64 / Zelda 64.

I had to rush on a few things and documentation is minimal for this release, so I recommended taking a look at the Custom Music tutorials from SMW Central if you want to understand how the mml format works. I recommend also dowloading tinymm ( MIDI -> MML converter) from there.

The readme.txt has a brief overview of the valid commands as well as the purpose of each program included in the mml2m64 package.

The Windows interface for the Sequence Inserter was left out of this release because I didn't have time to finish it.

Download v0.01 + Sequence Inserter/Parser + Misc music tools.

Here is a sample (slightly outdated) of mml2m64 output:

<object width="425" height="344"><embed src="http://www.youtube.com/v/NaZGlj0D8Hw&hl=en&fs=1" type="application/x-shockwave-flash" allowscriptaccess="always" allowfullscreen="true" width="425" height="344"></embed></object>

It produces also valid Zelda 64 (.zseq) sequences, but you'll have to insert them manually in the Debug ROM.
nBulbs
Random nobody
Level: 3



Posts: 1/1
EXP: 59
For next: 69

Since: 12-29-08


Since last post: 9.0 years
Last activity: 9.0 years


Posted on 12-29-08 07:32:08 PM
Link
Hi.

At great risk of sounding stupid, I don't believe mml2m64 is working correctly. I've taken an old MML file from my SMW hacking days and tidied it up like the victory example, but any time I run it (or even the victory example) through mml2m64, I just get "This system cannot execute the specified program" error. Everything else seems to work fine. Any idea what's wrong?
messiaen
Catgirl
Level: 65



Posts: 451/1085
EXP: 2249535
For next: 86093

Since: 11-20-07


Since last post: 4.0 years
Last activity: 3.0 years


Posted on 12-29-08 09:50:29 PM
Link
No, it was my mistake. I am trying to run it in another computer now and I got the same error.

It turns out that I forgot to change the project from "Debug" to "Release" mode. The debug binary requires specific DLLs which aren't part of the usual run-time C/C++ Microsoft libraries. If you have Visual Studio Express installed it probably might work, but I wouldn't recommend installing it just to run this.

Too bad I can't compile it again now
, when I return I will release it again without this silly problem and perhaps with some of the features I left out.

This thread can be locked, I'll do a Take Two in about a week
.
BMF54123


Rhea Snaketail
Slightly frazzled...
Level: 135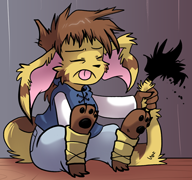 Posts: 1495/5863
EXP: 28753508
For next: 581497

Since: 07-03-07

From: Neither here nor there.

Since last post: 13 days
Last activity: 5 hours


Posted on 12-29-08 09:56:33 PM
Link
Just PM one of us when you want this unlocked. Might as well reuse the same topic.


For anyone else that comes across this topic in the meantime:

THIS IS A DEBUG BUILD. IT WON'T WORK ON YOUR SYSTEM. DON'T PESTER MESSIAEN WITH PMs ABOUT IT.

</megaphone>
Jul - NO! GO TO STAR! - mml2m64: an experimental .mml (Music Macro Language) importer for Mario 64 / Zelda 64
-
-
Rusted Logic