Reimu

Koopa
Level: 15


Posts: 42/115
EXP: 14504
For next: 1880

Since: 02-01-18

Pronouns: they/them
From: In a garbage can

Since last post: 3 days
Last activity: 1 day


Do you ever have bouts of perfectionism get to you? Like when trying to get a project done or trying to get the best look but fail miserably at it?

I sometimes have bouts of perfectionism where I'm working on a game or fan project, then being burnt out from it as a result. It even sometimes applies to my appearance, where I'm not happy with it until I think it's perfect.

Do you ever have this happen?
eifie
Member
Level: 13


Posts: 17/88
EXP: 9247
For next: 1020

Since: 02-13-18

From: Rural Indiana

Since last post: 84 days
Last activity: 67 days


yeaaaa this is me! a lot of times with art i will be creating something, decide i dont like it, then delete it and start over. i was just thinking about how i did this with my project velkacis too because i have recreated so many pages. i get really fixated on certain things and pour hours of work into it only to wake up the next morning and be like WAIT I HAVE A BETTER IDEA!
Tarale
Catgirl
C:\ DOS
C:\ DOS RUN
RUN DOS RUN
Level: 80


Posts: 1561/1747
EXP: 4609170
For next: 173799

Since: 07-23-07

Pronouns: she/her

Since last post: 17 days
Last activity: 14 days


I used to struggle with perfectionism more, but it doesn't fly in the workplace, and it holds back improvement with stuff like drawing, so I'm getting better at just letting stuff go.
RanAS
Member
Level: 38


Posts: 386/441
EXP: 340014
For next: 30433

Since: 10-10-14

From: Brazil

Since last post: 1 day
Last activity: 16 hours


Whenever I'm imagining an idea for a project, perfectionism tends to get in the way. Once I start having a sense of how much effort something is going to take, or as I try to actually create the project, then usually perfectionism tends to be left aside in favor of actually doing something, although more oftenly than not, the end result will end up bad enough that I'll want to redo it anyway (or at least improve it).
Rambly

Level: 83


Posts: 1866/1932
EXP: 5360476
For next: 71745

Since: 07-22-07

Pronouns: she/her

Since last post: 1 day
Last activity: 10 hours


i'm such a ridiculous perfectionist that it causes me to never finish anything creative, and even if i do finish things i almost never show anyone out of embarrassment

the only way i've ever been able to finish anything is letting go of perfection, but that's hard when you always have a clear idea of what something "should" be in your head...

the last major project i did that i actually finished and released to the public was a dumb Zelda Classic quest and it took me two years to finish. not because it's long or complicated (it started out as a challenge to finish something in a month), but because i'd stop working on it for months because i'd be upset that the dungeons weren't turning out as well as i wanted... also, i kept updating it not just for bugfixes but because i would keep tweaking a bunch of random stuff nobody cares about for years after it was released

i think i'm finally "done" with it which is unusual because i never feel like i'm done with anything

i've been less of a perfectionist about my appearance lately, though, now that i'm at a point where i can actually fix what's wrong with it. i'm happy just to look acceptably decent. :x
Nicole

Disk-kun
Level: 140


Posts: 6428/6442
EXP: 32703418
For next: 582987

Since: 07-06-07

Pronouns: she/her
From: Boston, MA

Since last post: 37 days
Last activity: 17 hours


I certainly never released anything through my decade of ROM hacking because of excessive perfectionism and being unable to finish anything because I'd restart it from scratch every few months x.x

I've managed to release more game projects recently because I've bene trying to adopt an ethos of "it's done, it is what it is, shove it out there" and move that instinct to restart from scratch instead to be "how are we going to do this better the next time"

It doesn't always work, though...
Reimu

Koopa
Level: 15


Posts: 62/115
EXP: 14504
For next: 1880

Since: 02-01-18

Pronouns: they/them
From: In a garbage can

Since last post: 3 days
Last activity: 1 day


I have trouble with ZC, ROM Hacking, and to an extent, RPG Maker games because I want it to be as perfect as possible to my vision. it's a lot difficult to translate from my brain to the actual project because of it being different from what I expected it to be.
Robbie Rage

Koopa
Level: 17


Posts: 83/100
EXP: 23958
For next: 785

Since: 11-22-16

From: Funkytown, USA

Since last post: 103 days
Last activity: 28 days


I do have a small perfectionist streak when it comes to most things creative, especially with writing pieces. I usually tend to spend way too long adding details to a setting or a character to make sure it comes out right.

I work on a small podcast with some friends, who thankfully help keep me in check and remind me that it doesn't have to be 100% perfect all the time to be worthwhile.
sofi

🌠
Level: 105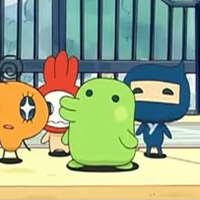 Posts: 3771/3797
EXP: 12107724
For next: 154536

Since: 02-18-11

Pronouns: she/her
From: たまごっち星

Since last post: 7 days
Last activity: 7 days


yeah, i do

it actually is worst with schoolwork. it's not as bad with projects anymore, doing photography challenged me to think on my feet and be flexible, reactive to my environment.
Rusted Logic