Sponty
Part boy, part car; Boycar, Protector and King of Chilladelphia
Level: 176


Posts: 11031/11086
EXP: 73389732
For next: 384794

Since: 08-24-07

Pronouns: he/him
From: Canada

Since last post: 6 days
Last activity: 5 days


I've got about 32 hours without sleep. It was a bus trip with family, and I had the brilliant idea of us leaving at 11PM.

So we're all up that day, and naturally nobody sleeps on the bus. We show up in Vancouver at 4:30am and now we have to kill time (with our backpacks) until we can check into our hotels at 3. It was a "fun" trip to the aquarium!

To top it off, when we finally into the room so we can crash for a couple hours, somebody pulls the fire alarm.
Rambly
when the wind the fire and all is calm,
caress me with your sweet lullaby...
Level: 83


Posts: 1741/1934
EXP: 5369704
For next: 62517

Since: 07-22-07

Pronouns: she/her

Since last post: 18 hours
Last activity: 1 hour


The longest I've been awake is like 25 or 26 hours just trying to fix my sleep schedule and I was basically a narcoleptic by that point. 30+ hours sounds absolutely ridiculous and impossible and terrible and like it'd prolly kill me.
Halian

That guy who worldbuilds
Level: 43


Posts: 415/457
EXP: 528122
For next: 36924

Since: 06-20-10

From: Central Florida

Since last post: 6 days
Last activity: 1 day


Originally posted by Kak

---

who's saying we avoid sleep

what about staying up awake way more than the norm (5/6 AM). and then you end up sleeping until 12PM

not that it happened to me. nope

---


You mean my normal sleep schedule?
Kak
heh
Level: 71


Posts: 1692/1780
EXP: 3142934
For next: 24180

Since: 09-03-13

From: ???

Since last post: 7 days
Last activity: 13 hours


Originally posted by Halian

---

You mean my normal sleep schedule?

---
Well, as long as you're not doing anything in the morning it can't be too bad.
Sanqui
1720

🦉
Level: 76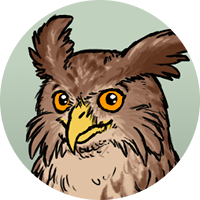 Posts: 1647/1729
EXP: 4005830
For next: 230

Since: 12-20-09

Pronouns: any
From: Czechia (NEW!)

Since last post: 4 days
Last activity: 4 hours


Posted on 01-24-18 04:39:55 PM (last edited by Sanqui at 01-24-18 04:42:54 PM)
Link | Quote
So it was 3:30, past the 43 hour mark, and I was just not getting the presentation done. I started feeling horrible because I just couldn't figure out what methods to use and thought I'm going to spend hours over it. I was also feeling like really shit, but not sleepy. I also started feeling like I'm having a bit of a difficulty breathing. I could've pressed on, but I spoke with a friend and got persuaded to drop it. Especially since I kept being reminded how people die after not sleeping for two nights... I guess I got sorta scared because I knew I had to be awake until the evening the next day as well.

So I set an alarm for 9:40, or in six hours, and slept. I was disappointed with myself but figured I'd tell the teacher I thoroughly apologize and would do it next week.
I woke up at some point and checked my phone, it was 1 minute before the alarm would ring. I got up and immediately started feeling bad that I didn't at least give myself an hour in the morning, since I felt like I could get the presentation done in this state. I actually did sit down and do 30 minutes' worth of work, before leaving for the class. I arrived late and the teacher was luckily presenting something on his own. So I sat down, ignored him and continued working. At some point the other person presenting today went. I did some of the most fundamental things left and was done pretty much right on time for me to start presenting. It was sketchy with slight blunders but I actually said a lot of details aloud that were missing from the presentation because I'm familiar with the topic. I answered all the questions and it went basically perfect.

So this is the story of how I never fucking learn my lesson because things always work out somehow. I wish I got burned sometimes tbh.
Tarale
Catgirl
C:\ DOS
C:\ DOS RUN
RUN DOS RUN
Level: 80


Posts: 1403/1747
EXP: 4609945
For next: 173024

Since: 07-23-07

Pronouns: she/her

Since last post: 18 days
Last activity: 15 days


Well, I'm glad that things worked out without you feeling more than a bit shitty. I'm also glad you did get some sleep in the end. It sounds like. You pretty much had to.

I dunno, difficulty breathing sounds a little like being burned, mate.
Rusted Logic