sammyrms1
Member
Level: 20


Posts: 24/137
EXP: 42283
For next: 156

Since: 12-19-16

From: San Francisco, CA

Since last post: 5 days
Last activity: 8 hours


Looks like we're finally gonna get Neptunia on PlayStation VR.
Click for Trailer
Elemi
370

The Phytochemist
Level: 39


Posts: 322/371
EXP: 395902
For next: 8869

Since: 06-20-10

From: Hyperspace

Since last post: 8 days
Last activity: 3 days


Uh oh, the slippery slope to boys never leaving their bedrooms is here.

Japan has a different culture that I think could be dangerous to be exposed to susceptible persons who these games are targeted at.

That's just my opinion though.
Lunaria


Moon Bunny! :3
Level: 132


Posts: 5280/5620
EXP: 27068178
For next: 63755

Since: 07-28-07

Pronouns: she/her
From: pile of fluff

Since last post: 9 days
Last activity: 1 day


I don't think the major negative parts of that sort of culture will ever translate to more western countries, mainly since there are plenty of other cultural things here that would go against it.

Anyway, I'm not too hyped about this, but then, I was never really into this series nor VR, heh. The Neptunia games are games I would want to experience for the story, etc. But the gameplay just seems super dull and boring for me every time I look at the games, which as stopped me from buying a game in the series every time I have considered it. :v
Cuber456

Fuzzy
Don't mind me. Just passing through.
Level: 52


Posts: 721/776
EXP: 1072378
For next: 11462

Since: 02-19-12

From: Everywhere at once.

Since last post: 270 days
Last activity: 270 days


While I've never played this series, it looks interesting from afar. There always seems to be talk about it and it seems to have a pretty dedicated fan base. Compile Heart must be doing something right.

A few reasons why I haven't picked it up. One, anything labeled in the RPG genre starts off on the wrong foot with me. Turn based combat is a big no no. Other forms of combat are better but I hate the concept of grinding. It's repetitive, boring and I don't get much out of it. There is nothing worse than wasting time just to level up. Two, I tend to be a handheld gamer but all I have is a 3DS. No Vita or PS4 for that matter. Yeah there is PC but I tend to shy away from that.

I've been wanting a PS4 to play a particular rhythm game but I'm just going to hold off on that for the time being.
Xkeeper

Level: 250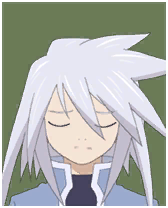 Posts: 22429/24691
EXP: 250028636
For next: 500375

Since: 07-03-07

Pronouns: they/them, she/her, etc.

Since last post: 10 hours
Last activity: 3 hours


I'm kind of curious what the VR aspects of this game are. Is the player character in-universe somehow? Some scenes in the preview look like that's the case (or you're otherwise sharing a viewpoint with an in-universe character), but I always thought this game was largely like other RPGs of this era where the characters are all defined by the story and not like, you.

Also, is that a Mega Drive cart in one of those pictures?
Sails
2780

Level: 98



Posts: 2773/2784
EXP: 9465361
For next: 188992

Since: 07-04-07


Since last post: 132 days
Last activity: 44 min.


Originally posted by Xkeeper

---

Also, is that a Mega Drive cart in one of those pictures?

---

Mega Drive cart stickers go up to the top, that's more of a Famicom cart isn't it?


Rusted Logic