Q
Mis7eryMyra
Level: 100


Posts: 2714/2908
EXP: 10066277
For next: 288119

Since: 08-02-07

Pronouns: she/her
From: Nowhere

Since last post: 9 hours
Last activity: 3 hours


Sometimes, I make music, and I recently finished an album. I'm not sure what genre to call it, but I'd say it's somewhere between ambient, electronic, and experimental.

Anyway, here it is on Bandcamp, if you'd like to listen to it:



The Empty Set
maple
Member
Level: 19


Posts: 122/153
EXP: 32664
For next: 3113

Since: 01-19-18

From: a linode vps

Since last post: 270 days
Last activity: 127 days


i finally managed to give this a full listen through and

i'm not exactly sure what to comment on it because i must admit ambient music isn't really my jam
but putting that aside, i think it's wonderfully put together and i genuinely enjoyed it for what it is

the compositions are very good and the sounds are pleasant (if maybe with the exception of "Frantic Power Series" which sounds rather intentionally... well, frantic)
other than that i get a really melancholic vibe from the other tracks, it feels like the kind of music you'd want to listen to when you need a moment of peace and quiet

overall the album made me think of melodies in a way i'm not accustomed to, making me stop and think about it for a bit
which i think is a good thing

favourite track: Undefined
Q
Mis7eryMyra
Level: 100


Posts: 2812/2908
EXP: 10066277
For next: 288119

Since: 08-02-07

Pronouns: she/her
From: Nowhere

Since last post: 9 hours
Last activity: 3 hours


Thank you for your thoughts, and I'm glad you enjoyed it!

I'm quite the amateur, so I'm happy you thought my compositions were good. Frantic Power Series is definitely the odd one out, though, and I'm not sure I like its inclusion, in retrospect. "Melancholy" is definitely what I was going for overall, and I'm glad it came across that way.

I appreciate that you took the time to listen to it even though it's not really your thing, and I'm happy to hear that it gave you a bit of a new perspective on things.
Xkeeper

Level: 250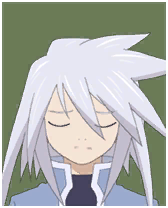 Posts: 23221/24681
EXP: 249825370
For next: 703641

Since: 07-03-07

Pronouns: they/them, she/her, etc.

Since last post: 1 day
Last activity: 12 hours


basically what maple said. i definitely agree that fps is probably better off outside of this album just because it's so different. for an ambient album that i had playing in the background it was a very sudden, very jarring transition

it's difficult to really give any big feedback on individual tracks just because I spent most of the time I listened to this doing other things (like, uh, writing this post
) but they work pretty well.

i think my favorite track is void immersion and least would probably be axiom of duress (after FPS)
Q
Mis7eryMyra
Level: 100


Posts: 2813/2908
EXP: 10066277
For next: 288119

Since: 08-02-07

Pronouns: she/her
From: Nowhere

Since last post: 9 hours
Last activity: 3 hours


Yeah. The reason I made it and included it is because the album is meant to reflect certain aspects of my life, which is often kind of slow and melancholic punctuated by brief and sudden periods of high stress and anxiety. In that respect, it's an important part of the album from my perspective, but I recognize that it can hurt a lot of people's enjoyment of the album, so I probably shouldn't have included it.

Regardless, I appreciate the feedback, and I'm glad you liked the more ambient tracks.


By the way, here's a fun fact about the ablum: Tracks 1 and 9 sound the same backwards as they do forwards.
Rusted Logic