Sloshy
Random nobody
Level: 4


Posts: 1/5
EXP: 274
For next: 5

Since: 01-27-16


Since last post: 1.0 years
Last activity: 1.0 years


Posted on 01-27-16 08:34:08 PM (last edited by Sloshy at 01-27-16 08:35:20 PM)
Link | Quote


its a normal day for Rachel on yoshi's island. she sets out to gorge herself as usual but one inconvenient event after another begins to prove this day to be ...not so normal. also why are koopa troopas on the island?

DOWNLOAD

PREVIEW OF ONE OF MY NEW LEVELS, Starlight Palace!!!

X=jump
Z=run
SPACE=eat
ARROWS=move
F2=restart
F4=fullscreen
ESC=quit

Must manually restart upon dying. Sorry.
Still buggy, but its getting there.

Rachel's design



Rachel swallowing a shyguy



Rachel after doing what she does best



Rachel's health bar



Rachel's stomach filling [to be implemented]



SCREENSHOTS

BMF54123


Rhea Snaketail
Slightly frazzled...
Level: 132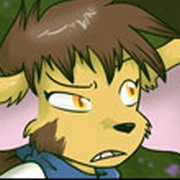 Posts: 5740/5795
EXP: 26951608
For next: 180325

Since: 07-03-07
From: Neither here nor there.

Since last post: 46 days
Last activity: 1 day


I think what Lunaria is trying to say is that it comes across as a bit...fetishy.

If that's not the intent, then please disregard.
Nicole

Disk-kun
Level: 138


Posts: 6344/6392
EXP: 31206504
For next: 456477

Since: 07-06-07
From: Boston, MA

Since last post: 13 days
Last activity: 3 days


Downloaded and played it a bit (note: was playing through Wine, but seemed to work fine) but couldn't make the first jump; am I missing something or is it just on the very bare edge of her jump length?

The sprite style is very cute, including the cartoon stomach. (Though cartoon internal organs are always a bit... interesting, conceptually?)
Sloshy
Random nobody
Level: 4


Posts: 5/5
EXP: 274
For next: 5

Since: 01-27-16


Since last post: 1.0 years
Last activity: 1.0 years


Use the run button to get a good running start. I'm sure you will get the hang of it. :3
I'm glad you like the sprites. I know I need to animate the running better however. I've gotten criticism about her arms not moving and I cannot argue.
Rusted Logic