TL;DR: this and this
__________

I promise I'm not infected by a spam bot, nor am I working for any advertising agency.


I have a history with video capture that goes back 15 years or so. Well, my tendency to record myself playing games goes back a bit farther--I remember using a VCR to share Super Smash Bros. videos with friends. But in terms of putting video on the computer, I have a long and technical history.

When it all started, I of course knew crap about recording, and the thought of being able to put the video game up there on the Windows 98 flickery CRT display kept me jittery at night, so I bought something to do the job. A web search finally turned up the product I originally bought, which was the Dazzle DM-4100:




Gee whiz, it's been so long since I've seen that thing that the photos are giving me flashbacks. I spent sooooo many hours playing around with games like F-Zero X, using the craptastic bundled software to edit some truly frightening video clips. Regrettably, most of my old videos were lost to the ages, but I did find these laying about, recorded with that device, which are collectively my oldest surviving video content still available online.

Eventually I did what any self-respecting video producer would do: stumbled upon VirtualDub, its associated capture mode, and Avisynth. That's when I learned I could actually capture at 60 frames per second (well, 30 interlaced), and subsequently dished out the moolah for a Pinnacle PCTV 800e, which I've been using ever since: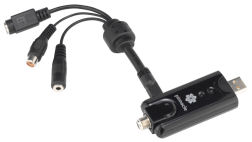 The vast majority of my capturing career was done with that thing, encompassing stuff like this and this.

I always made sure my video cards could output in S-Video for the express purpose of recording stuff from my desktop computer. I was able to put together clips like this one, but it came with a severe resolution limitation. But hey, thems were the breaks. I mean, it's not like there's a cost-effective VGA capture device out there...

When building my latest computer, I made sure to snag a video card with HDMI output. I figured at some point I'd get an HDMI capture device. In fact, why not get an HDMI capture device right then and there? I looked long and hard, but the industry seemed stuck in a particular rut: while many devices could record 1080p, they could only do so at 30 frames per second, not 60. This was the case well into last year, until YouTube started supporting 60fps playback. I figured it was only a matter of time...

Somewhere along the way I bought a MyGica V2HD to convert legacy analog signal types to HDMI for both recording as well as using on modern displays:




It works fine, more or less, but it's still a cheap build and is kinda hokey. But it let me play GameCube games on my monitor, so I couldn't complain. Amazon seems to be out of stock now, and may not be selling it again, but I paid $47 for it.

True to my prediction, there's a 1080p60fps device out there now, and it's not terribly expensive: Elgato Game Capture HD60. It couldn't be simpler: it's got HDMI in, HDMI out, and a USB plug. No external power needed: it does all of its processing via USB power.




The captured clips are crisp and smooth to boot, and I'm extremely pleased with the quality of the device. With the HDMI passthrough, you can record while also seeing what you're recording, which is a must for video games. And the best part is that I can plug my computer's output into it.

After I was done swooning over my Game Capture HD60, I looked into Elgato's other capture device: Game Capture HD, the precursor, which capped out at 1080p30fps, but accepted all the same analog inputs I was interested in--composite, S-Video and component--in addition to HDMI. I actually called customer service yesterday to clarify one key detail: the device will in fact convert analog signals to HDMI to use with its output port.




Testing it out on F-Zero GX (Amazon Prime overnight shipping for four bucks, yo), this bad boy predictably has a better picture and faster conversion than that other signal converter I bought, and it has capture capabilities to boot! So I spent the day figuring out how to process H.264/ACC transport streams in Avisynth, and now I'm a very happy guy.

Again, I don't advertise for Elgato or anything, but holy moly, these devices are the real deal. The only downside is that they don't register as a traditional capture device/webcam... or, at least, I don't think they do... But hey, if I want to stream over Skype, there's still that PCTV 800e.