Red
Random nobody
Level: 3



Posts: 1/2
EXP: 104
For next: 24

Since: 01-19-15


Since last post: 3.0 years
Last activity: 3.0 years


I've downloaded tons of SM64 Roms to use in the rom extender but whenever I try to use them it says error calling command line utils. What does this mean and what do I do?

shyguyhex

Level: 14


Posts: 41/45
EXP: 12637
For next: 434

Since: 01-03-14


Since last post: 3.0 years
Last activity: 2.0 years


This probably means that you only extracted the main extender exe. The other stuff that came with it needs to be in the same folder when you run it.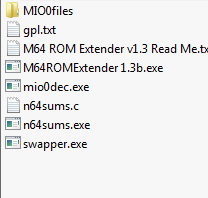 This stuff
Rusted Logic