BMF54123


Rhea Snaketail
Slightly frazzled...
Level: 135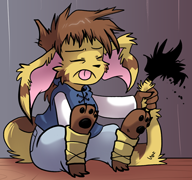 Posts: 5663/5859
EXP: 28600636
For next: 734369

Since: 07-03-07

From: Neither here nor there.

Since last post: 22 min.
Last activity: 22 min.


Originally posted by L

---

Also I can't figure how he's able to have the device connected to both his tv and the computer.

---

The capture device itself isn't connected to both. He has the composite output from the consoles connected to both the TV and the capture device, via either a splitter or a composite output jack on his TV (if I'm interpreting the diagram correctly). Normally, you'd connect the composite output only to the TV and use S-Video for the stream itself (see below), but the NES doesn't support S-Video.


Originally posted by L

---

How is he using S-Video with the consoles?

---

He has the S-Video output from the consoles connected directly to the capture device (I'm assuming either his TV doesn't support S-Video, or he doesn't have an S-Video splitter).

As for your other questions, I can't really help you, sorry. I personally use an ancient PCI capture card and a program called DScaler, which OBS captures the video from. It's a horrible and semi-unstable voodoo setup that I wouldn't wish upon anybody. (Fun fact: I have no drivers installed for my capture device!)
GuyPerfect
Catgirl
Level: 65



Posts: 1047/1094
EXP: 2301779
For next: 33849

Since: 07-23-07


Since last post: 127 days
Last activity: 12 days


The S-video A/V cables for SNES/N64/GCN have both a composite and S-video plug on the end. If you send one to the capture device and the other to the TV, you can get split output.

Alternately, you can use your TV's video output (if it has one) as the source for the capture device.
Rusted Logic