shyguyhex

Level: 14


Posts: 38/45
EXP: 12825
For next: 246

Since: 01-03-14


Since last post: 3.5 years
Last activity: 3.0 years


I've made a nice script interpreter utility for injecting blocks of data into ram and rom for any N64 game.
I plan for this to be a backend part of Bowser64 eventually.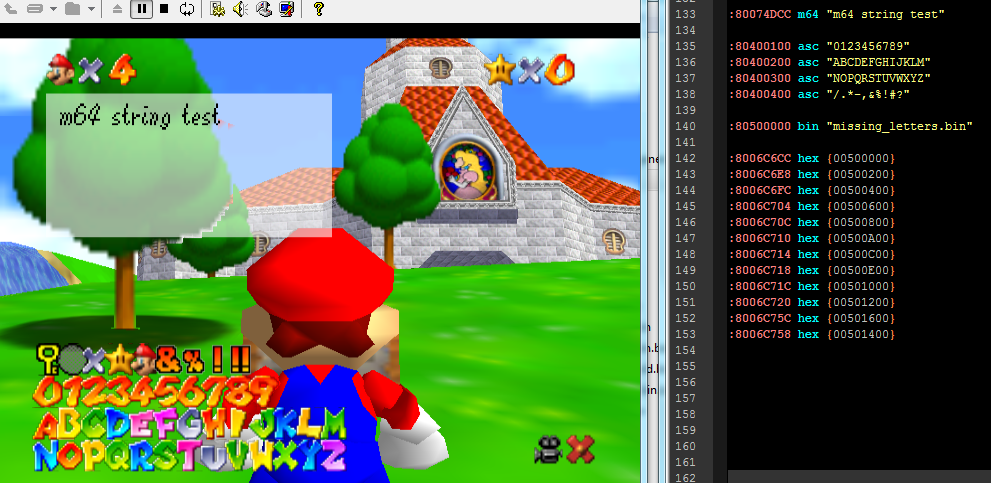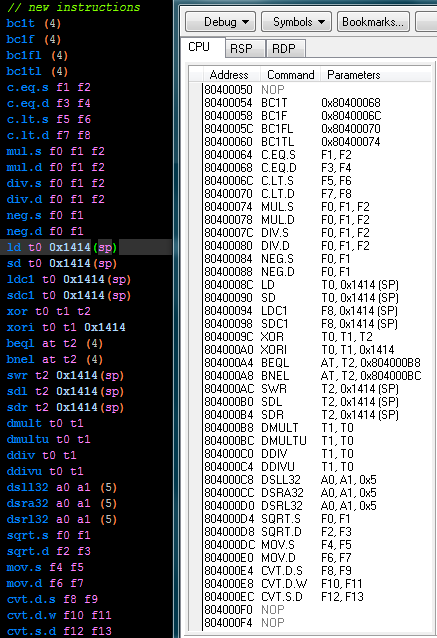 Download: b64si 10-19b.zip
A simple batch frontend for Nemu ram injection and the example script from the image above are included in the download.

---
Command line params:
RAM injection:
---

b64si "script path" (ram mode - 0) (emulator process id as decimal) (emulator vc base as hex)
Ex: b64si "script.b64" 0 1234 10020000


---
ROM patch:
---

b64si "script path" (rom mode - 1) "path to rom"
Ex: b64si "script.b64" 1 "path/to/rom.z64"


---
---
Script syntax:
---

:(8 character ram address) // move ram pointer
!(8 character rom address) // move rom pointer


---
Data constructs:
---

hex {(hex pool)} // injects a pool of hex data
asm {(asm code)} // assembles mips asm code and injects
asc "text" // injects ascii
m64 "text" // injects sm64 encoded text
bin "file" // injects a file


---

(All data from the data constructs will get 32bit alignment, and will move the rom/ram pointers automatically when patching.)

Built in functions:

---

clr(num size) or clr(num size, num char) // clears an area with 0x00's or with a provided char

---

(clr does not move the ram/rom pointers automatically.)

Comments:

---

// line comment
# line comment
; line comment
/* block comment */


---
Currently supported ASM instructions:
---

J
JAL
BEQ
BNE
BLEZ
BGTZ
ADDI
ADDIU
SLTI
SLTIU
ANDI
ORI
LUI
LLO
LHI
TRAP
LB
LH
LW
LBU
LHU
SB
SH
SW
SLL
SRL
SRA
SLLV
SRLV
SRAV
JR
MFHI
MTHI
MFLO
MTLO
MULT
MULTU
DIV
DIVU
ADD
ADDU
SUB
SUBU
AND
OR
NOR
SLTU
SLT
ADD.S
ADD.D
SUB.S
SUB.D
LWC1
SWC1
MFC1
MTC1
BC1T
BC1F
BC1FL
BC1TL
C.EQ.S
C.EQ.D
C.LT.S
C.LT.D
MUL.S
MUL.D
DIV.S
DIV.D
NEG.S
NEG.D
LD
SD
LDC1
SDC1
XOR
XORI
BEQL
BNEL
SWR
SDL
SDR
DMULT
DMULTU
DDIV
DDIVU
DSLL32
DSRA32
DSRL32
SQRT.S
SQRT.D
MOV.S
MOV.D
CVT.D.S
CVT.D.W
CVT.S.D


---

Some additional info:
+ R0..R31 register naming can be used for asm
+ , and ) and ( in an asm block are seen as whitespace, so use them however you want
+ All data outputs are in byte-order ABCD (.z64) format!
+ the m64 string encoder doesn't support symbols yet, and it's a little bugged