andlabs
Member
Level: 35


Posts: 208/290
EXP: 276633
For next: 3303

Since: 03-18-10

From: United States

Since last post: 39 days
Last activity: 8 days




[09:03] <andlabs> good morning
[09:03] <andlabs> today's weird dream
[09:04] <andlabs> first we went ot the city with my cousin and vsited a place from a past dram, iwth a very deep underground ofice coplex; I imagined there was som wacky GTK+ CSS bug that wa snever explained
[09:04] <andlabs> then ws basically a replay of an older dream involving that same place and some comedy song performed by a stree tperformer
[09:04] <andlabs> redux
[09:05] <andlabs> then I wound up going into some anime/manga/japanese game store nearby and saw a lot of weird things, including some weird future in which chase bank entered the media industry and screwed out the competiton, 'linkuyasha', some very thick manga based on some western writer's attempt at making her own norse mythology whcih opens with some fetish and masturbation porn, and my iPhone had a red color scheme and a wacky keyboard layout
[09:07] <andlabs> the gtk+ bug was about twitterv v iews not fanning out after a certain date

I don't know what else to do but star tthe bandwagon maybe
andlabs
Member
Level: 35


Posts: 209/290
EXP: 276633
For next: 3303

Since: 03-18-10

From: United States

Since last post: 39 days
Last activity: 8 days


some more details, posted hastily as a double post because I have to run in some indeterminably short amount of time:
at one point during the second part I started rpelaying the original dream providing coherent running commentary
the elevator I met the performer in was a wide service cargo elevator type thing with its whole service bits exposed
the comedy song involved hot dogs; in the original dream, I thought it was the street performer's own creation, only to find out it was a popular local song that inspired an eatery
that did not stop me from frantically writing down the performer's song beforehand

also s/comedy/novelty/

anyway back to this dream
the complex is 7 stories below ground and the last story ricles
there are some aquarium bits in it
at one point some fictional IRC conversation between people I never heard of replayed itself in one of the aquariums and I thought one of the people there was 2Tie due to a similar handle but they either couldn't hear me or I was worng
on the way out of the complex, me and my cousin started joking about things and I clearly remember at the end almost revealing my furry side, then I realized the whole time I thought she had vulpine tendencies (let's hope she never reads this!)

I also remember someone talking in the import store and I remember wanting to get http://donmai.us/posts/1714199?tags=inubashiri_momiji [sfw] out as it represented my reaction

oh also there was a Sega store and something tha tlooied like a playground near my cousin's house in the area

'linknuyasha' was some one page western-made brawl in the family type thing where the character describes both character's tendencies at a dinner table

my mother was also in this dream's first part and I remember fighting with her about leaving early

Kazinsal
Amazing Flyin' Hammer Bro
Level: 48


Posts: 516/615
EXP: 811581
For next: 11962

Since: 01-18-11

Pronouns: he/him
From: Victoria, Canada

Since last post: 1 day
Last activity: 11 hours


Had a dream last night that I was trying to suck up spider corpses with a hand vacuum except the vacuum was pushing them around while sucking up everything that wasn't a spider corpse.

Also dreamed that I had once again started developing a hobby OS and that once again things were looking good as I started to work on it. Then I woke up and checked my GitHub for anything new. Turns out that one wasn't a dream.

Immediately started looking for spider corpses and a different vacuum.
andlabs
Member
Level: 35


Posts: 210/290
EXP: 276633
For next: 3303

Since: 03-18-10

From: United States

Since last post: 39 days
Last activity: 8 days


[10:42] <andlabs> today's weird dream: a super metroid hack involvig some weird system in which you have to find secret areas to build a car... based on some fake japanese card game called 'renko' that involved combining face value of cards with dice on them; also an estranged cousin was one of the car dealers
andlabs
Member
Level: 35


Posts: 211/290
EXP: 276633
For next: 3303

Since: 03-18-10

From: United States

Since last post: 39 days
Last activity: 8 days


[21:22] <andlabs> I had a 3 hour nap
[21:23] <andlabs> with a crazy dream about me being back at my old school trying to leave for the night and repeatedly falling into calamities
[21:23] <andlabs> at least one of which (rapidly getting something to eat) seemed to be my own decision
[21:23] <andlabs> then what I thought was my bus turned out to be for someone else
[21:24] <andlabs> then it was suddenly daytime again on a winter day and I kept chasing what looked like my bus at first but turned out to be trucks for other purposes
[21:24] <andlabs> and not being able to run like I usually do even indoors
[21:24] <andlabs> yes it was crazy

Other details
- my phone was always dimmed down and getting the bus dispatcher number was an unusual mishap
- "dinner" was a box of cinnamon buns and I got stuck for several seconds debating if I should buy it because I thought I had less money than I actually did and was in a rush
- this version of my old school's building that I was in is a heavily extended facility with more food places that appeared in previous dreams too
- I believe the other bus rider's name was Michael
- whether I had my rolling backpack with me varied from time to time, IIRC
sofi

🌠
Level: 106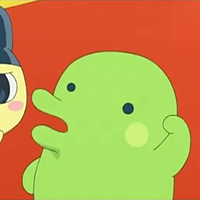 Posts: 3287/3818
EXP: 12485861
For next: 186082

Since: 02-18-11

Pronouns: she/her
From: たまごっち星

Since last post: 30 days
Last activity: 3 hours


I had a dream last night that my partner Lillian and I were in a very TRON-like room watching OxiClean® commercials inspired by Mario Kart's battle mode except live action and in a bird's eye perspective.

I was like, "Cool, but you need to see this one commercial. It was inspired by Jean-Luc Godard."

So we start this compilation of various commercials and there's one that's vaguely inspired by Godard and I'm like, "that's not the one!" then the next one has Taylor Swift's "22" and I wake up and Lillian is playing "22" and she says "I'm not even 22".
Rusted Logic