Tarale
Catgirl
C:\ DOS
C:\ DOS RUN
RUN DOS RUN
Level: 83


Posts: 1501/1876
EXP: 5222988
For next: 209233

Since: 07-23-07

Pronouns: she/her

Since last post: 2 days
Last activity: 23 hours


Originally posted by Rambly

---

later on i learned to kinda sorta like The Slip in maybe around 2010, but none of their other stuff clicked with me really and i didn't really get why so many people were super into them. but recently, in like December or so, my girlfriend who's really into NIN played me a song (i don't remember which) and it made me REALLY curious about listening to more, so i listened to The Downward Spiral again and kind of fell in love, then i listened to Pretty Hate Machine again and maybe loved that more, and then i listened to With Teeth and goddammit i guess i really like Nine Inch Nails now. i have still yet to hear The Fragile, Hesitation Marks, or Year Zero...


---

Oh, you're in for some fun discovery then! The Fragile and Year Zero are very solid albums. Hesitation Marks is OK, still well worth listening to, but I don't find I return to it as much.

Year Zero has an ARG that is well worth messing around with, if it still exists.
Gabu

Star Mario
Placeholder Ikachan until :effort: is found
Level: 164


Posts: 9763/9870
EXP: 57030416
For next: 671974

Since: 08-10-09

Pronouns: they/them, she/her
From: Santa Cruisin' USA

Since last post: 6 days
Last activity: 3 days


Originally posted by sofi

---

《The Orville》, i'm rly frigging into this show

tolerable levels of Seth MacFarlane, tbh

hey don't judge me, poindexter

---


I've seen that show, and I have to say it's not bad. It's like Seth managed to complete some form of an agreement with Fox to make slop for years and years and thus was approved to make a show that he could run the way he wanted, much like pre-cancelled Family Guy.

Then again Ted wasn't too bad either, from what I've heard. Basically with with what I've seen with his new show, it feels like this is the most freedom he's been given creatively in years.
Tarale
Catgirl
C:\ DOS
C:\ DOS RUN
RUN DOS RUN
Level: 83


Posts: 1516/1876
EXP: 5222988
For next: 209233

Since: 07-23-07

Pronouns: she/her

Since last post: 2 days
Last activity: 23 hours


I'd like to add to my NIN thing by saying I also thought I wouldn't like Tool. I thought it was pretentious.

I like it now, but I… well, I wasn't *wrong*…
— Kaito Sinclaire —
Hacking reality since 20̶?͝>̨ )̧̢~͠|̡͠T̴̡<͏̀́#͟͠)̸̡̛̕͟_̢҉M̨̛͢͠͠@̴̷(̧̕01 ERROR.







Joined 09.06.2011

Last posted 65 days ago
Last active 1 day ago

Originally posted by lion

---

Invader Zim. [...] I gave it a watch back in 2016 due to its influence in SRB2 lol

---


How'd I know this would be the reason it was brought up?
devin

King Bowser Koopa
i'm mima irl
Level: 107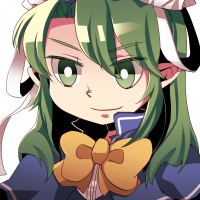 Posts: 3397/3470
EXP: 12683413
For next: 407898

Since: 04-29-08

Pronouns: any
From: FL

Since last post: 4 days
Last activity: 4 days


Oh wow, I had totally forgotten there was Invader Zim stuff in SRB2 way back when I first played it in... 2004-05 or so, I guess?

I was already into it at that point, but it's been so long that I really ought to watch it again and see how well it holds up. (Probably pretty well, though)
Rusted Logic