FieryIce

Luigi
不知道该写什么
Level: 114


Posts: 3933/4118
EXP: 15967262
For next: 342305

Since: 12-17-08


Since last post: 60 days
Last activity: 10 days


Top Secret NSA catalog reveals US government has been secretly back dooring equipment from US companies including Dell, Cisco, Juniper, IBM, Western Digital, Seagate, Maxtor and more, risking enormous damage to US tech sector.
Excerpts
---

The ANT developers have a clear preference for planting their malicious code in so-called BIOS, software located on a computer's motherboard that is the first thing to load when a computer is turned on.

This has a number of valuable advantages: an infected PC or server appears to be functioning normally, so the infection remains invisible to virus protection and other security programs. And even if the hard drive of an infected computer has been completely erased and a new operating system is installed, the ANT malware can continue to function and ensures that new spyware can once again be loaded onto what is presumed to be a clean computer. The ANT developers call this "Persistence" and believe this approach has provided them with the possibility of permanent access.

---
---

Another program attacks the firmware in hard drives manufactured by Western Digital, Seagate, Maxtor and Samsung, all of which, with the exception of latter, are American companies. Here, too, it appears the US intelligence agency is compromising the technology and products of American companies.

---


Ie, If you buy from US companies, you get a permanent NSA backdoor in your firmware

USB cables are bugged: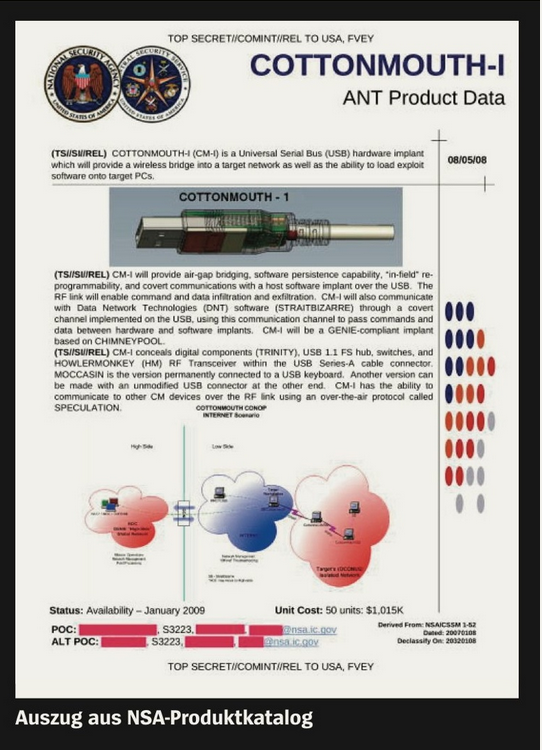 Microsoft's Crash Report function is also spied on
---

When TAO selects a computer somewhere in the world as a target and enters its unique identifiers (an IP address, for example) into the corresponding database, intelligence agents are then automatically notified any time the operating system of that computer crashes and its user receives the prompt to report the problem to Microsoft. An internal presentation suggests it is NSA's powerful XKeyscore spying tool that is used to fish these crash reports out of the massive sea of Internet traffic.

The automated crash reports are a "neat way" to gain "passive access" to a machine, the presentation continues. Passive access means that, initially, only data the computer sends out into the Internet is captured and saved, but the computer itself is not yet manipulated. Still, even this passive access to error messages provides valuable insights into problems with a targeted person's computer and, thus, information on security holes that might be exploitable for planting malware or spyware on the unwitting victim's computer.

---


It's not entirely surprising; the extent is a bit more than I imagined and I'm sure this will have a terrible influence on US companies, especially abroad. People will not want to buy bugged US hardware anymore... This is a developing story so we'll see what comes out of it.