Bloodstar
11200

bumblin' stumblin' robots
Level: 176



Posts: 11043/11201
EXP: 73214030
For next: 560496

Since: 07-06-07


Since last post: 40 days
Last activity: 7 hours


I don't get why everyone claims Winamp died???

I can't think of any comparable media player, honestly! I guess foobar2000 is okay but I don't really see anything at all that would push it ahead of Winamp and I was pretty sure it was still one of the dominant media players

also interestingly, devin, I stick to the smaller skins - I am really not too fond of the enormous skin
I kinda miss all the neat skins I had ages ago before 2008 came and my laptop from that era died

devin

Wart
i'm mima irl
Level: 103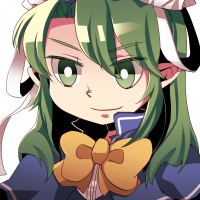 Posts: 3091/3297
EXP: 11225165
For next: 246241

Since: 04-29-08
From: FL

Since last post: 2 days
Last activity: 1 hour


I do use Winamp in windowshade mode whenever I'm just listening to stuff so it's out of the way, but whenever I want to manipulate/organize my music collection, etc. I think Bento looks a lot nicer than the classic skin
Kak

gg photobucket
Level: 68


Posts: 1260/1639
EXP: 2623434
For next: 105366

Since: 09-03-13
From: ???

Since last post: 13 days
Last activity: 2 days


I personally use foobar2000 for most of the music (read: chiptunes), although I did use WinAmp on another computer at some point.

I honestly don't care too much - as long as it's flexible enough for my needs (and it works) I'm okay with that.

I may try to put on my *for now* local server the plugin collection.
Kazinsal
Amazing Flyin' Hammer Bro
Level: 45


Posts: 501/543
EXP: 635373
For next: 24791

Since: 01-18-11
From: Victoria, Canada

Since last post: 129 days
Last activity: 23 days


I will never stop loving Winamp 5.

It is by far the pinnacle of audio playing evolution.
gamax92
Member
Level: 13


Posts: 33/34
EXP: 9764
For next: 503

Since: 04-24-11
From: Inside my Wii

Since last post: 3.0 years
Last activity: 1.0 years


Ahh, WinAmp.


Wait, that's not WinAmp... Thats QMMP
Rusted Logic