Jul - Computers - Is it too early to jump on the 2160p bandwagon?
-
-
Lyskar
12210

-The Chaos within trumps the Chaos without-
Level: 183


Posts: 12109/12211
EXP: 83077308
For next: 1423795

Since: 07-03-07
From: 52-2-88-7

Since last post: 2.0 years
Last activity: 2.0 years


As it is 1080P is starting to stretch the limits of how large I'd want to have those spaces be. At that ginormous resolution I can only think, "I'd only use a monitor that big if my OS would let me specify multiple grids to maximize things in because that is waaaaay too huge for me."
stag019

Red Koopa
Level: 24



Posts: 106/129
EXP: 69641
For next: 8484

Since: 09-11-11


Since last post: 1.0 years
Last activity: 71 days


Well I can keep my head completely still and just move my eyes and still see anything on the screen (3 feet is a really close guess, the screen is at total 2 feet 10 inches wide). I never understood any everyone wants to keep their head and their eyes perfectly still whenever they use a computer. There's so much more space for stuff if you just move it.

I can understand not keeping browser windows maximized, look at it this way. If you just resize all your windows, you could have 4 1080p browser windows on the same screen.
Gabu

Star Mario
Placeholder Ikachan until :effort: is found
Level: 160


Posts: 9257/9707
EXP: 52572310
For next: 380689

Since: 08-10-09
From: Santa Cruisin' USA

Since last post: 5 days
Last activity: 1 day


There's also the fact that with 1080p and beyond resolution, there would need to be larger screens in order to fully utilize the technology, and eventually it would come to the point where said screens can't reasonably have higher res within the environment it's utilizing, if that makes sense.


BMF54123


Rhea Snaketail
Slightly frazzled...
Level: 133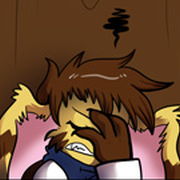 Posts: 5767/5797
EXP: 27174735
For next: 677932

Since: 07-03-07
From: Neither here nor there.

Since last post: 28 days
Last activity: 14 hours


> Posted on 05-23-13 12:14:17 AM

I would certainly hope he's already made a decision by this point
Cuber456

Lantern Ghost
Don't mind me. Just passing through.
Level: 51


Posts: 673/754
EXP: 948489
For next: 65449

Since: 02-19-12
From: Everywhere at once.

Since last post: 7 days
Last activity: 21 hours


The real dilemma is wondering where the hell 3 years of my time went.
Jul - Computers - Is it too early to jump on the 2160p bandwagon?
-
-
Rusted Logic