sofi

🌠
Level: 106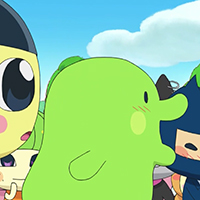 Posts: 2912/3824
EXP: 12642286
For next: 29657

Since: 02-18-11

Pronouns: she/her
From: たまごっち星

Since last post: 4 days
Last activity: 5 hours


I think film's pretty under-appreciated on this forum. Like, we never talk about it or anything. So go ahead and post what movie you watched last and share whatever thoughts you had. Rate it, write a mini-review, write a detailed essay/analysis or just say the title. Or respond to someone else's opinion about a movie. Whatever. Then come back as you watch movies and post about them!

I just rewatched Punch-Drunk Love, which to this day is still my favorite Paul Thomas Anderson film and one of my favorite films over all.

While I was watching it, it kind of occurred to me that it's structurally really similar to There Will Be Blood and there are a lot of parallels between it and his latest film The Master. It'd be really silly of me to go in-depth about it when I'm not even sure if anyone here has watched any of these movies let alone all three so I'll just link this analysis and if anyone can relate they can talk about it here or something.

Anyway, what have you watched?