Okay, I've finally had a chance to go through the remaining main-series Pokémon games, so I can give my input!


Diamond/Pearl & Platinum

I have a bittersweet view of Diamond and Pearl, but a much more favorable view of Platinum. I'm keenly appreciative of many of the innovations that Diamond/Pearl brought, such as no inventory limit, item categorization during battle, and last but not least, the establishment of the convention that Pokémon seen qualify for Pokédex progress rather than Pokémon owned. Considering my less favorable views on the game, I don't want to overshadow the good things that have come about thanks to it.

I'm not too fond of the story. You run around chasing Team Galactic to an over-the-top world-ending battle for righteousness, yadda-yadda blah etc. This isn't a Hollywood summer blockbuster here, it's supposed to be about assisting the Pokémon world's most awesome professor before he becomes displeased and hurts me. When you're done saving the entire universe from a reality-replacing powerful legendary Pokémon, you proceed to another town where the gym leader is even more powerful...

But all-in-all, the main beef I have with Diamond/Pearl is that the Pokémon League is beyond broken. The wild Pokémon in Victory Road go up to level 46ish (with a stray Golbat being 50 while Surfing). The Pokémon League opponents go up to a whopping level 65. How are you supposed to train your team to be at competitive levels, grind away until your eyeballs fall out? Lose a bunch of times to slowly inch your way there? Even with liberal use of Battle Items this is a difficult endeavor. And it's compounded by the fact that the Elite Four can't seem to stick with their types. Since when is Draipon a Bug-type? Or Sudowoodo a Ground-type? And then there's Flint. FLINT...




He has five Pokémon, two of which are Fire-type. But this belies a deeper problem. Turns out that Diamond and Pearl only have access to those same two fully-evolved Fire Pokémon: Rapidash and Infernape. There are literally no other Fire Pokémon to pick from in the Sinnoh Pokédex, yet the designers STILL managed to just not care and push through a "Fire" trainer in the Elite Four anyway.

Platinum fixes this one, though. It adds some 60 Pokémon to the Sinnoh regional Pokédex, including various Fire types, so Flint is no longer a mere poseur flying the Fire type flag.

I did an experiment where, instead of training up a team of Pokémon like the professor's assistant tells you will make you happier, I instead pulled a solo run and allocated as much Exp as I could to just a single Pokémon. I selected one that would have what I thought the best chance against the gyms and Pokémon League while being accessible early on, and Torterra (the evolution of starter Pokémon Turtwig) was my choice. Entering the Pokémon League and using up all my Rare Candies, it was level 75. Battle Items were not necessary. (-:<

Platinum fixes this one too. By the time you get to Canalave City, the opponent trainers begin ramping up levels much steeper than Diamond/Pearl did, culminating with the majestic warriors of Victory Road, before facing the Pokémon League... who have gone down in level. I had a full team going in, and it wasn't a major deal to come out on top. I commend Game Freak for fixing their problems; while Diamond/Pearl is on the very bottom of my list of favorites because of this, Platinum is much closer to the top.

Besides, Platinum gave us that awesome Frontier Brain music! What's not to love?

<object style="visibility: visible; border: 2px solid #ffffff; border-radius: 6px; margin-left: 24px;" id="brstm10732" data="images/photobucket.png#http://www.brawlcustommusic.com/loopplayer.swf" type="application/x-shockwave-flash" height="55" width="150"></object>

One thing I do especially appreciate from Diamond/Pearl is the establishment of the sub-region, the Battle Zone, which presents a shorter quest in the post-game. It's similar to how the Generation II games take you to Kanto after becoming the Champion: you get more to do, and there are more Pokémon to catch. The whole part about it being a sort of battle camp for the world's top trainers to meet up and compete with one another sets a wonderful mood and it's a shame you have to go through the terrible Pokémon League to get to it.



HeartGold/SoulSilver

Remakes of Pokémon Crystal (itself a modification of Gold/Silver), this game builds on the successes (and lessons learned) from Platinum and makes a very nice return trip to Johto and Kanto. It remains mostly faithful to its Game Boy Color ancestors, with the differences mainly lying in additional features.

The best part, I think, is that the Team Rocket Admins are given distinct identities this time around. They actually feel like an organized syndicate, and the showdown at the Goldenrod City radio tower has a much more epic feel to it than it did in Gold and Silver, where you simply kicked out the bad guys who invaded the joint. And hey, you're not saving the entire world or anything, so HeartGold and SoulSilver easily take the blue ribbon for the best Pokémon games of Generation IV.

The addition of the Johto Safari Zone was unexpected, but welcome, although the re-opening of the Kanto Safari Zone seemed redundant. But hey, the more the merrier I suppose. Especially considering the new cliffside Route 47 they added on the way to the Johto facility, along with its wonderful music:

<object style="visibility: visible; border: 2px solid #ffffff; border-radius: 6px; margin-left: 24px;" id="brstm4826" data="http://www.brawlcustommusic.com/loopplayer.swf" type="application/x-shockwave-flash" height="55" width="150"></object>

With my inquisitive mind, one of my favorite updates to HeartGold/SoulSilver was the behavior of the Dowsing Machine. Instead of being a ping-radar type device that you use on suspicious locations where it'd be just as easy to go to the spot in question and check for a hidden item, the one in HG/SS can be used while walking and will reveal the locations of hidden items as you pass near them. I'm especially fond of this because hidden items tend to be pretty good stuff, not the least of which are the bulk of the games' Ethers, Elixers and Rare Candies.

Last, but certainly not least, is the Fateful Encounter Celebi event included at the Ilex Forest shrine. It covers plot events of what happened to Giovanni after the events of Red/Blue, reveals the background for Silver (the character), and demonstrates why Giovanni never responded to <spoiler spoiler>. It's a very nice touch that ties up the missing ends of the lore side of things.



Black/White

Somewhere along the way, things took a turn for the interesting and the production value of the Pokémon gaming experience took a pretty drastic leap forward. The graphics themselves are largely similar to the other DS titles, but new camera tricks and fantastic music make the experience quite a bit more enjoyable than in the past. Traveling across Skyarrow Bridge to the Castelia City skyline is certainly a memorable experience, as are some other things like the mood in Chargestone Cave. It's certainly a new step for Pokémon presentation.

Mistralton City:

<object style="visibility: visible; border: 2px solid #ffffff; border-radius: 6px; margin-left: 24px;" id="brstm4143" data="http://www.brawlcustommusic.com/loopplayer.swf" type="application/x-shockwave-flash" height="55" width="150"></object>

The game holds your hand a bit tightly at the beginning, I think. It doesn't settle for just showing you around town and explaining what the Pokémon Center is for, it forcibly takes you in and makes you heal your Pokémon at the counter. Then it proceeds to describe the functions of the PC. And it doesn't stop there. Enough! I now how to play, I've done it in a dozen other games before this one!

There is one thing the NPCs kept saying that I almost thought was either a joke or an error, but turned out to be true: TMs no longer break after you use them. They can only be differentiated from HMs now in that HM moves can't be forgotten without visiting a Move Deleter. It's extremely useful to be able to give certain handy moves like Return to multiple Pokémon, and in some cases to swap out moves for other moves and swap them back later. To counter any potential exploits, however, teaching a TM move will not change the number of available PP in that move's slot, so you can't use TMs for a free refill.

Story-wise, I'm okay with it. Your primary goal is repeatedly reaffirmed as filling out the Pokédex, not fighting in the Pokémon League or chasing down the resident bad guys. And in fact, there are places in the game that very much ring true to the older feel of the Game Boy games, like Nacrene City (at least up until you leave) and the aforementioned Mistralton City, where you just stroll into town, take in the sights, battle the gym leader and move on. No averting doomsday here, you're just doing some research for the professor.

The game builds up to nothing in particular, but it does finish it well. You're countering the shenanigans of Team Plasma along the way, with threats of worldwide catastrophe, but by the time you actually have any confrontations, it's more in the context of the Pokémon League, as strange as that sounds. Instead of fighting the Champion, you take a bit of a detour and fight someone else who already fought the Champion. Same net effect, I suppose, but it's also a fresh change. There wasn't anything about it that felt over-the-top to me, save for maybe the way the castle made its appearance...

Similar to other titles, Black/White has a post-game. Unlike other titles, it takes place in the same region. The eastern half of the Unova mainland was off-limits for whatever ludicrous reasons prior to the credits, but after you're done, you can go visit the remaining towns, and it's quite refreshing. There's no villainy, no Pokémon gym silliness, no real goal other than to explore, battle and see what you can see. For the first time, it's like a Pokémon game that doesn't thrust some definite ending on you. It goes as long as you want it to.

Oh yeah, and you can use multiple Potions now without returning to the item screen after each one. Sounds insignificant, but hoo boy do you get used to it quick.

Perhaps most interesting is the fact that Black/White does not make use of previous generations' Pokémon prior to completing the main quest. Every single Pokémon is brand-new. Novel, perhaps, but I get a serious vibe that the Pokémon specifically are largely analogous to the Generation I bunch. Some of the connections are just too perfect, like Klink ↔ Magnemite. But that's neither here nor there.

The Dowsing Machine was updated again. Now, you don't have to interact with it at all. When it detects an item nearby, it'll beep at you and point you in the right direction. Totally takes the treasure hunting part out of it, but considering the number of Rare Candies it tells me about, I don't reckon it's time to complain.



Black 2/White 2

I was all but ready to declare Black/White the best-designed and best-presented of the Pokémon games, but then I played Black 2/White 2. It's a bit deceptive at first, since it uses the same everything engine as Black/White. It initially feels like an expansion of sorts... Even some of the overworld locations are identical right down to the trainer battles (I'm looking at you, Route 9), but that's about the extent of the similarities. The story is entirely different, and you visit many places that you didn't before, including the eastern half of the Unova mainland from the earlier games, before challenging the Pokémon League.

Much to my delight, the bad guys (Team Plasma again) make it clear that they intend to take over Unova, not the world (although non-Plasma characters use the phrase "take over the world" figuratively at points).

There are a few more memorable points in this game than the previous one. Aspertia City has a scenic overlook, the ship from Virbank City to Castelia City has quite a view, you get to take a ride on one of Skyla's flights, etc. Perhaps most enchanting for me was the Marine Tube. It's like a walk-through aquarium, except it's not an aquarium at all: you're walking under the ocean. I doubt there will be another area in a Pokémon game that matches the ominous majesty of Route 10 from Black/White, but this game has many splendors of its own.

Not to be outdone by its predecessor's innovations, Black 2/White 2 presents many new inventions of its own. It brings the introduction of Medals, similar to the badges from City of Heroes, known more commonly as "achievements." There's also the Pokémon World Tournament, where you can challenge gym leaders, Elite Four and Champions from all over the Pokémon world. Black City and White Forest have a sort of mini-game where you crawl around in a dungeon with other trainers. And, oh yeah, there's that Pokéstar Studios thing mentioned on the box. I suppose it could be really fun, but it's a niche feature. On the other hand, there's Join Avenue, which you can set up as a semi-reliable source of things like Rare Candy, fossils and evolutionary stones.

I was especially pleased with the Pokémon League Champion, who was not Alder as in the previous games. It's one of those "didn't see it coming" things, and between the character, the visuals and the music, it's enough to put a smile on your face.

Not-really-spoiler music, but don't listen to it if you haven't played the game:

<object style="visibility: visible; border: 2px solid #ffffff; border-radius: 6px; margin-left: 24px;" id="brstm24924" data="http://www.brawlcustommusic.com/loopplayer.swf" type="application/x-shockwave-flash" height="55" width="150"></object>

The game also lays claim to the most spectacular feature of any Pokémon game, bar none. It's the most fantastic, incredible, utterly and absolutely useful thing to ever come out of the video game industry. It is, and try not to faint when you hear this, the ability to immediately activate another Repel once the previous one runs out.



And then this...

Game Freak seems to be under the mistaken assumption that using arbitrary NPCs to block your progress until unrelated tasks are accomplished is somewhere in the same hemisphere as "a good idea". This is not good game design. This is very bad game design. So terrible is this in the realm of all things related to designing games that, were I a project supervisor, I would cut pay (and potentially flesh) of any designers who submitted it to me trying to legitimately pass it off as some kind of "work". It's just lazy, it's excruciatingly irritating, and it needs to stop.

In some cases, an NPC blocking your progress makes sense, but these are few and far between. The best example of a GOOD use of this are the Pokémon League gate guards in Red/Blue. They give you access to the front door before you even encounter your first gym, and the guards won't let you through unless you have the corresponding gym badges. Perfect! But Game Freak, woe be to them, uses the same technique for far less honorable causes.

When I played through Platinum, I made a list of the nonsensical NPCs that I came across, and I fear I missed a few:

Stop right there! Barry was looking for you, go to his house!
OMG, where do you think YOU'RE going? You can't leave town without a Pokétch!
"Hey, we're standing in a patch of flowers!" "Totally true, my friend."
Leaving the Valley Windworks? I think not! You haven't even gone in yet!
You don't have an Explorer Kit? Then don't you dare ride that bike!
I think right here in front of the path to Route 209 is a great place to talk about eggs.
I think right here in front of the path to Route 212 is a great place to run a story.
A group of Psyduck appears to be in the way. Why? Because we stopped giving a shit.
We're just gonna guard/film the lake here, so you can't pass.
Oops, a blackout in Sunyshore City. You have to wait. Forever.
Haha, we can't get through this fog in Mt. Coronet! Not while the others are at the lakes.
I'm hopelessly lost! Please don't pay attention to me! <Standing in front of a doorway>
Wow, that Distortion World was nuts. Better go tell the professor. <Standing in front of a doorway>
You would think that over time they'd become more intelligent about this, but they seem to be devolving with each new iteration of the game world. Red/Blue had a wonderful progression setup: HM-related obstacles blocked your path and you needed both the HM and a gym badge (and a Pokémon that could learn the move) to circumvent them. But then even in Black 2/White 2, they're clearly at the point where they just don't care anymore: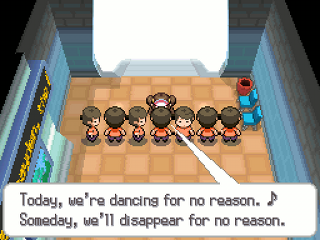 Given how prolific this nonsense is, I don't expect to see it disappear any time soon. But hey, maybe if we all join hands and shout to the heavens...