Bloodstar
11270

i miss dr. dre
Level: 179



Posts: 10512/11277
EXP: 77399406
For next: 845084

Since: 07-06-07


Since last post: 13 hours
Last activity: 2 hours


Eesh. Been entirely too long, and I'm quadposting.

Too much has been happening, that's all I'll say. However, I'm back with a new camera to take pictures with and a huge range of new resolutions!

This one is a less creepy red wall! I figured I'd go for a red shot again, considering the last one I took was ... overly creepy, in a way. Perhaps the events over the past four months for me have tainted the wallpaper in my mind! Ah well, I don't regret making that one! This was actually going to be me experimenting and making something with 16 colors, and it actually looked INCREDIBLE (Nice muted colors without losing TOO much!) ... but I happened to catch actual people in the shot, and due to my paranoia I'm making the wall four colors to make their faces mostly unrecognizable just in case.

Go figure, eh?

This wallpaper was taken on the Media campus of Delaware County Community College in Pennsylvania - through a window in the building with the cafeteria, bookstore, library, etc... not the academic building, I guess, but I don't know the proper term for it. This is actually my second attempt at such a shot. ( You can see the first here here). It wasn't really an attempt at a wallpaper but more a "hey, something odd's happening, snap a shot of it" type thing, but I found it worth attempting to turn into a wallpaper in December. It didn't pan out, sadly - I found it a bit too dark around the top, and ultimately a little too "weird" for what I was aiming for. I may try to make it into a wall in the future, though... it won't be available in resolutions above 1920x1200, though, being taken on my iPod!) I find this one captured what I was aiming for a lot better than the first one... especially considering the second one was taken on a whim!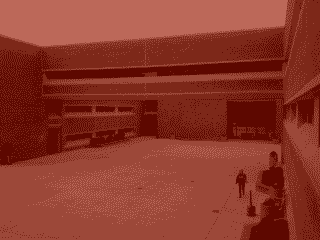 All resolutions from 640x480 to 2560x1600 // DA link