Teflon
Member
Level: 57


Posts: 7/874
EXP: 1399009
For next: 86919

Since: 10-12-10


Since last post: 1.0 years
Last activity: 264 days


Posted on 01-05-11 05:53:40 PM
Link
There are a lot of models and textures in the Daikatana pre-alpha that use a format that's can't be read in any model or texture viewer. Quite a few weapons/enemies and items doesn't appear while you're playing the pre-alpha, but have their own models and textures. I would really like to get pics of those up on the wiki, especially the ones for enemies/weapons that didn't make it into the final version.

My request is: could anyone please make a basic model and/or texture viewer for the Daikatana-pre alpha? Getting pics of those models and textures would make the pre-alpha pages 100% complete and it would let me take cleaner shots of already-existing pre-alpha models. Animations for the models would be nice, but not necessary. Hell, I'd settle for something that would export a textured model to a program like Milkshape.

Even if you can't do it yourself, I'd appreciate it if someone could send it along that wants to crack an unknown video game model/texture format for some reason.

If you're interested, download this .zip, which has a few model and texture samples from the pre-alpha to tinker around with.






Teflon
Member
Level: 57


Posts: 11/874
EXP: 1399009
For next: 86919

Since: 10-12-10


Since last post: 1.0 years
Last activity: 264 days


Posted on 01-13-11 02:07:50 PM
Link
Update: I found someone that would be willing to write a model converter, but there's some something I didn't know about; there are actual three model formats. One of them uses a format that is completely different when compared to any other model format. I've asked him not to bother with it, because, if I'm correct, these are just prop (tables, etc) models that are of no use to the page.

Now, all I need is someone that's willing to crack the texture format.
RahanAkero

The End of the World
Level: 54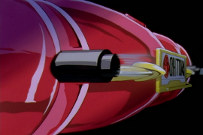 Posts: 242/754
EXP: 1180793
For next: 53077

Since: 11-25-09

From: Staten Island, NY

Since last post: 1.0 years
Last activity: 19 days


Posted on 01-17-11 01:57:56 AM
Link
Ask and ye shall recieve. Lock'd. :O
Rusted Logic