Sails
2780

Level: 98



Posts: 2458/2784
EXP: 9468739
For next: 185614

Since: 07-04-07


Since last post: 135 days
Last activity: 10 hours


I'm completely absorbed by this game. I've already put about 12 hours in to it. I've only touched "5 minute Championship II" and my current top score of 1,750,700 is as of this post Rank #17 overall. That particular run however was full of pattern failures, too much slowmo and even a bomb use! A bomb!! My style of run includes a few things the top score player doesn't do but ends you with higher score in the long run, so I'm going to hopefully make a perfect run or close to perfect and easily take first spot. I currently have the first 3 and a half minutes down pat, the pattern I do is perfect and keeps me out of Inky and Pinkies corner traps. I could keep following my patterns and basically have a perfect run (Albeit unoptimized) which would blow the current record holder out of the water. I miss the hair trigger turns occasionally in end game and it can turn out ugly


TL;DR
This game is so amazing that I have played a SINGLE MODE of a SINGLE LEVEL for TOO MUCH TIME and it is $10 which may seem like a lot but I absolutely assure you; It is well worth it.

Also, I'm on the PS3 version. Add me so you can gaze at my better than yours score, I'm Gigahedgehog.
Sponty
Part boy, part car; Boycar, Protector and King of Chilladelphia
Level: 177


Posts: 8915/11090
EXP: 74812806
For next: 430870

Since: 08-24-07

Pronouns: he/him
From: Canada

Since last post: 14 days
Last activity: 9 days


It sounds amazing.
PC users get the shaft, I'm assuming?
RahanAkero

The End of the World
Level: 54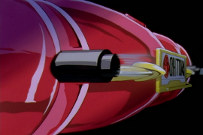 Posts: 212/754
EXP: 1185768
For next: 48102

Since: 11-25-09

From: Staten Island, NY

Since last post: 1.0 years
Last activity: 17 days


Originally posted by Spontaneous Madness

---

It sounds amazing. PC users get the shaft, I'm assuming?

---


D: Unfortunately, unless they're bringing it out for Steam or something.

Sails: I'm ranked something like #11 on the time trial for Spiral on the Xbox360 version, and I have something like 1,800,000ish points on said course. >> Top that?
Rusted Logic