Sanqui
1730

🦉
Level: 77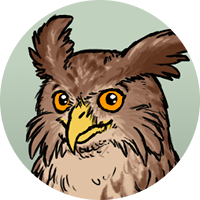 Posts: 1378/1733
EXP: 4055521
For next: 135608

Since: 12-20-09

Pronouns: any
From: Czechia (NEW!)

Since last post: 9 days
Last activity: 1 day


Posted on 08-17-15 05:49:46 AM (last edited by Sanky at 08-17-15 05:50:10 AM)
Link | Quote
Originally posted by Bloodstar

---

that animation is really smooth in ChromeOS.

Like, unsettlingly so. What the hell

---

In Opera Mobile too. Holy crap. I can literally feel the battery drain while watching it.
2Tie

Rumours of my death have been greatly exaggerated.
Level: 62


Posts: 746/1060
EXP: 1920086
For next: 64600

Since: 02-22-10

Pronouns: anything you want
From: The Codrex, Karda Nui

Since last post: 8 days
Last activity: 2 hours


...Corned Beef flash drives???
shagia
110

Level: 21


Posts: 93/116
EXP: 44480
For next: 5463

Since: 02-24-15

From: oakland, ca

Since last post: 1.0 years
Last activity: 2 days


wow corned beef flash drives sure sound nice right at the moment
Rusted Logic