BMF54123


Rhea Snaketail
Slightly frazzled...
Level: 135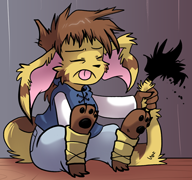 Posts: 5870
EXP: 28977298
For next: 357707

Since: 07-03-07

From: Neither here nor there.

Since last post: 16 days
Last activity: 1 day


Posted on 01-25-10 05:52:46 PM
Huge avatars/minipics = NO
---
Okay, since our last two new members decided to ignore the avatar size limit (hint: it's not 620x496), I figured I'd nip this in the bud before it got to be a problem:

Any avatars (or "user pictures") that exceed the size limit of 200x200 as specified on the Edit Profile page will be cropped to 100x100, in whatever fashion I deem acceptable.

The same goes for minipics, those little icons that appear next to your name on the board index. Even though they are automatically resized to 16x16, it is generally not a good idea to just copy and paste the user pic field into the minipic field. There is no reason a 16x16 icon should be more than a few kilobytes in size, and besides, it looks like crap in browsers that don't do image resampling.

-----

tl;dr version: if you've suddenly got a torso where your amazing Captain Falcon wallpaper avatar used to be, you just might be exceeding the size limit!